Star Alliance Gold
You can recognise a Gold status customer in your reservation system's Passenger Name Records (PNR), which indicate customer's status with a '/G'. In the Departure Control System, the customer's tier level is indicated with '*G'. On boarding passes look for this format 'XX*G' and read as Airline Star Alliance Gold (XX is the two-letter airline code). Example: TG*G = THAI Star Alliance Gold = THAI Royal Orchid Plus Gold.
The benefits are as follows: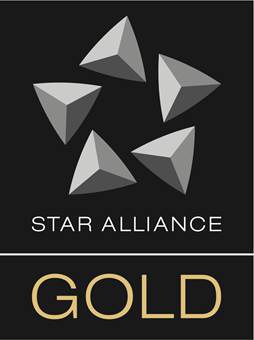 Airport Lounge Access Complimentary access to airport lounges displaying the Star Alliance Gold symbol, regardless of their class of travel. In addition, one guest travelling on a Star Alliance flight that day is allowed to access and relax in over 1,000 airport lounges worldwide.
Priority check-in at counters displaying the Star Alliance Gold symbol Star Alliance Gold Status allows the customer to check in through the Priority check-in counters.
Priority Boarding With priority boarding, the customer can enjoy the freedom of boarding at his/her convenience along with First and Business Class passengers.
Extra Baggage Allowance We allow an additional 20 kg (44 pounds) where the weight concept applies, or one additional piece of luggage where the piece concept applies.
Priority Baggage Handling The customer's bags get priority treatment and are among the first to be unloaded.
Priority Waitlisting If there is no seat available on the customer's preferred flight, we ensure they are given priority on the waitlist.
Gold Track Star Alliance Gold Track offers customers, who have Star Alliance Gold Status including those travelling in Economy Class or who are travelling with Star Alliance member airlines in First Class or Business Class, priority at security and immigration check points in selected locations.